Reading
At The Carlton Academy, we continually develop an environment in which a love of reading is embedded within our overall culture and daily routine for our students.
We offer a wide variety of opportunities for students to both enhance their reading skills for academic purposes and simply to read for enjoyment.
DEAR time (Drop Everything and Read)
Both students in Years 7 to 9 and staff suspend all other activities for 15 minutes every day to read an appropriately challenging book of their choice. It is beneficial to aid students with overall reading skills and to demonstrate how it is an essential part of daily routine for all ages.
There is an additional DEAR time session during tutor time once per week. During this time, students are read to by staff and discuss the material being read to them.
Accelerated Reader
Year 7 and 8 students participate in the Accelerated Reader programme which encourages and challenges them to read a wide range of fiction and non-fiction books. Personalised reading targets are set after an initial reading test and then students read their books and take online quizzes. Prizes and house points are awarded to students who meet their targets. Students also aim to become an Accelerated Reader Word Millionaire.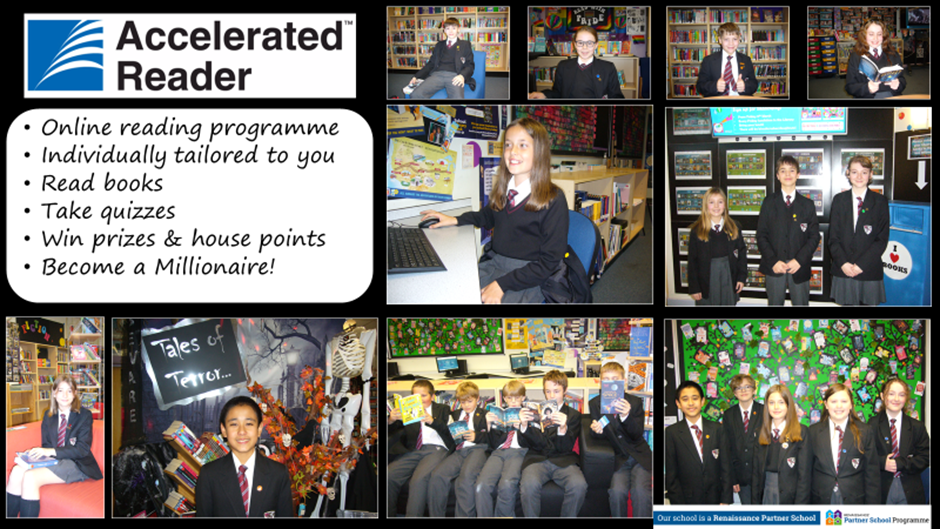 Quizzes can be taken at home by accessing the following link: Accelerated Reader
Literacy Intervention
We offer a variety of literacy interventions depending on the individual needs of each student. Students are supported from Year 7 and this is continually reviewed and monitored until they leave in Year 11.
No Nonsense Phonics
This is a program which builds on the phonics students will have studied in primary school. This intervention aids students who struggle to decode tricky words. It usually involves three sessions per week in fifteen-minute chunks.
Lexia PowerUp
Lexia PowerUp is an online literacy program where students work independently in the areas of word study, grammar and comprehension. Students receive points for correct answers, and it can get very competitive! We use the data to inform other 1-1 literacy activities to ensure progress.
Students enroled on the program may also access this at home:
Lexia PowerUp Literacy - Login and Student Program
Reciprocal Reader
This intervention is designed to aid students with reading, processing and understanding a variety of texts. It uses four simple steps to support students in feeling less anxious when trying to make sense of new information within different subject areas.
English intervention
English intervention is geared towards the analytical skills students will use in their English GCSE examinations. It covers texts of a similar nature and challenge that they may encounter within this level of assessment.