Oracy
Oracy is the ability to speak and communicate well. At The Carlton Academy we recognise that this is an essential skill that will directly contribute to raising students' achievement across the curriculum as well as being a transferable skill applicable to many walks of life and careers. Much like literacy and numeracy, good oracy is achieved through cultivating a set of core skills. We aim to do this through weekly discussions at tutor times.
Teachers use the SPEAK criteria below to support students to develop their oracy skills: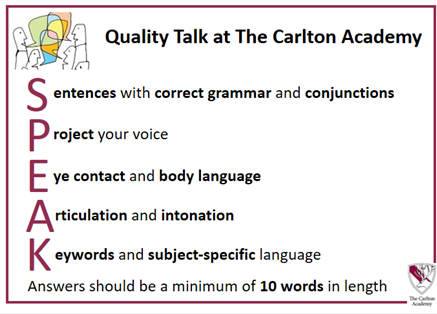 Oracy also supports learning. We use questioning and discussion in lessons to provide cognitive challenge and deepen students' understanding. Furthermore, we recognise the importance of promoting vocabulary, the correct use of technical language and the ability to be conversant to a range of people, about a range of topics, across a range of subjects and support students to speak as experts in the subjects that they study.